Voice of YinYangia Primary Domestic Service
1999-2000
2000-2006
On January 15, 2000, VOY's Primary Domestic Service changed their color scheme to blue, black, and white, to distinguish itself from its sisters.
YBC Radio 1
2006-2010
After the merger of National Television Corporation and Voice of YinYangia on January 1, 2006, Voice of YinYangia ceased domestic services and their domestic channels were separated. Voice of YinYangia Primary Domestic Service was renamed to YBC Radio 1.
Due to being a YinYangiese-language radio channel, it used the YinYangiese acronym instead of the regular English one.
2010-present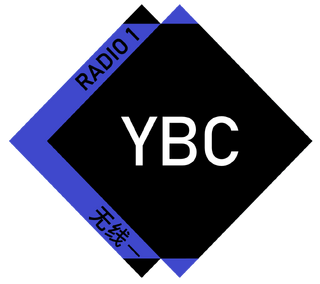 On May 10, 2010, the logo was changed. The YinYangiese acronym was replaced with the English one to match its sisters. The English name, "Radio 1", was added at the top. It also features color-inverted triangles above and below the diamonds, which became the sole radio branding logo of YBC.