2018-present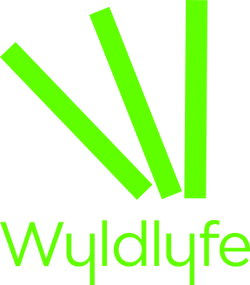 After establishment of Wyldlyfe Education Society as a nature (wildlife, natural history), science, geography and history focused independent organization with majority stakes owned by Old Dominion Media, a new logo was created for the company and
the channel of the same name
. The logo is also used by the channel's parent company Wyldlyfe Television Partners & Marketing Services SA, itself being owned by the Society (17%) and
Quest Media
 (83%).
On January 30, 2019, Wyldlyfe Education Society was spun off as an affiliate of Qualis, however, the affiliateship was moved to Quest in July.
The new logo was designed by Dreamcatcher Design and GBC Design. The three sticks are a representation of numerous things the WES specializes in, for example:
Three falling books in a Domino-like fashion or three sun rays, representing science.
Three trees falling or a footprint of either a duck or a three-footed sloth, representing nature.
Pointers for hours, minutes and seconds, representing history.
Community content is available under
CC-BY-SA
unless otherwise noted.