WRKF-TV, channel 3, is an owned-and-operated television station of the RKO Holdings-owned RKO Network, located in Fresno, California, USA. Its signal covers the Central San Joaquin Valley and the mountain ranges flanking either side, including the Sierra Nevada mountains and Yosemite National Park. The station serves Fresno, Madera, Merced, Mariposa, Tulare, and Kings counties.
1934-1955
1955-1959
1959-1975
1975-1981
1981-1991
1991-1997
1997-2009
2009-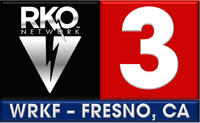 Community content is available under
CC-BY-SA
unless otherwise noted.