The page needs to have an equivalent in the Dream Fiction Wiki.
Please contribute to the DFW by creating a page for this channel, company, etc.
1953-1967
1967-1982
1982-2016
1982-1999
1999-2001
2001-2010
2010-2016
2016-2019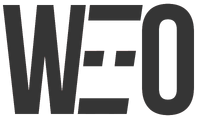 The channel was acquired by Laserium Holdings and GBC Holdings under Laserium-GBC Networks. This logo was made by GBC Design Ontario on May 1, 2016. On January 30, 2019, WEO closed its operations.