WDSN-DT is the flagship Disney Channel affiliated station in New York, United States.
ABC Family New York, WABF-TV
2002-2004
In January 5, 2002, WDSN-DT was launched as an ABC Family station, under the callsign of WABF-TV, operating in UHF channel 70.
JETIX 3, WJNY-TV
2004-2014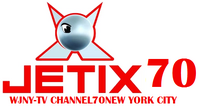 After 5 days JETIX launched, it is now affiliated with JETIX, and the callsign changed to WJNY-TV. Some JETIX shows are added like Yin Yang Yo! When Disney XD replaced JETIX in 2009, it is still affiliated with JETIX.
Disney Channel 3 New York, WDNY-DT
2014-present
In June 1, 2014, they decided to affiliate WJNY-TV with Disney Channel and the callsign changed to WDSN-DT, now it airs JETIX and Disney Channel shows.