WBAN-TV is a commercial-free television station located in Orlando, Florida, and it is affiliated with American cable and satellite television networks Comedy Central and Nickelodeon (and Nick at Nite). It operates on channel 37 and is owned by Konami which is the one of the television stations to be owned by a video game publisher. It began broadcasting in late-1975 as a independent station. Konami purchased WBAN-TV in 1989.
WKNY-TV offers the complete Comedy Central, Nickelodeon and Nick at Nite programming schedule, plus complete uninterrupted playthroughs of Konami, Square Enix (including Eidos games and its divisions and its predecessors Square and Enix) and Hudson Soft games, and original comedy, kids, sitcom and video game programming produced exclusively for WBAN-TV viewers.
1975-1977
1977-1979
The new logo is launched as WBAN-TV becomes a Pinwheel affiliate in 1977, and rebranded as "Pinwheel 37" or "WBAN 37".
1979-1980
WBAN-TV receives a on-air makeover in 1979, it rebranded as "Nickelodeon 37", this and the next logos continue until 1985.
1980-1981
1981-1984
1984-1985
1985-1989
WBAN-TV added Nick at Nite, renaming to Nickelodeon / Nick at Nite 37"
1989-1991
In 1989, Konami purchased the station, but continue to alive as "Nickelodeon/Nick at Nite 37".
1991-1995
Comedy Central was added to WBAN-TV, rebranded as "Comedy Central/Nickelodeon/Nick at Nite - WBAN-TV 37", this was still in use.
1995-1997
1997-2000
2000-2002
2002-2006
2006-2008
2008-2009
2009-2010
2011-2012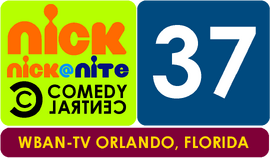 2012-present
Community content is available under
CC-BY-SA
unless otherwise noted.