Nick Popcorn
2002-2003
On 15th March, 2002, Nick Popcorn was launched.
Nick Video
2003-2005
Since the channel began to show short cartoons and music videos rather than just films all the time, it was rebranded as Nick Video on 6th January, 2003.
June-October 2005
A new logo was launched on 17th June, 2005, but it was only used for four and a half months due to the channel rebranding again in October.
VideoNick
2005-2006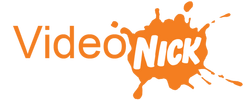 On 31st October, 2005, all of the Nick channels in Kuboia were updated with new ident packages. Nick Video's idents remained mostly the same, but the channel's name was changed to VideoNick.
Although the logo was only used for six months, it is arguably the most iconic logo for the channel.
2006-2008
A new logo was introduced on 1st May, 2006.
2008-2010
The final logo was introduced on 1st September, 2008.
See also
Community content is available under
CC-BY-SA
unless otherwise noted.