The page needs to have an equivalent in the Dream Fiction Wiki.
Please contribute to the DFW by creating a page for this channel, company, etc.
Vexner Cinema was a premium cinema concept created by Vexner Laboratories that combined Vexner proprietary technologies such as Vexner 360, Vexner Orama, signature entrance and intrinsic design features.
2016 (pre-launch)
2016-2019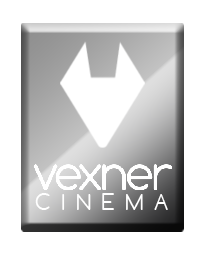 On January 30, 2019, Vexner Cinema and InterD concepts became part of Bachmann Cinemas, thus the brands were discontinued.
Technology
Vexner Orama
| | |
| --- | --- |
| | LOGO MISSING |
2016-2019

Vexner Orama is an in-house projection system, which consists of two 4K modular laser projectors, capable of delivering up to 27 foot lamberts on screens for 3D (and up to 49 foot lamberts for 2D), a substantial improvement on current generation 3D systems which deliver in the range of 3 to 4 foot lamberts for 3D. The result is improved brightness, color and contrast compared to traditional xenon projectors.
Vexner 360
| | |
| --- | --- |
| | LOGO MISSING |
2016-2019

Vexner 360 is an object and channel based hybrid sound format, capable of reproducing 20 bed channels and 256 objects, through 128 individual speakers in order to pan sound around and through the auditorium, which allows recreation of effects such as thunder and flyover using the ceiling channels as well as pin point effects such as bumps or bullets using objects.
Vexner Prevue
| | |
| --- | --- |
| | LOGO MISSING |
2016-2019
Most Vexner Cinemas feature a curved video wall entrance displaying content related to the feature film playing in the auditorium. The content displayed on the video wall is specifically generated by the film studio and is intended to immerse viewers in the movie experience before the movie has started. The video is generated using multiple short throw high definition projectors in the entrance ceiling and proprietary software is used to pixel map the different images together along the wall. similarly, the audio is generated using speakers placed in the ceiling of the entrance.