The page needs to have an equivalent in the Dream Fiction Wiki.
Please contribute to the DFW by creating a page for this channel, company, etc.
TheCuben2006 Channel HD
2000-2007

2007-2009
2009-2013
2013-2015
2015-2016

2016 (United States), 2016-2018 (International)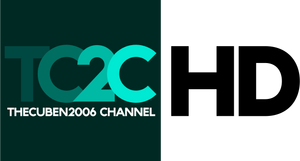 2016-2018 (United States)
CubenRocks Channel HD
2018-2019
2019-2020
This logo was released in June 2019, to make this logo look slicker.
UWN HD
2020-present

V • T • E
CPN Holdings

1Co-owned with Glitch Productions.
2Joint venture with Warner Bros. Discovery, The Walt Disney Company, and Paramount Global.
3Co-owned by E.W. Scripps Company.