Tonight's The Bomb
February 16, 2009-February 26, 2013

Tonight With Spitfire
February 26, 2013-2019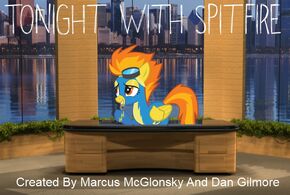 In 2013, after Bomb Bird was kicked off the show it was going to be cancelled but Hasbro and the creators of Forts decided to revive the show. Hasbro started a poll on the website which was a vote for which character will take over Tonight's The Bomb. After the survey Spitfire won with over two million votes and was named the new host. Hasbro announced that if one of the Wonderbolts didn't become the host then they would start a spinoff of My Little Pony: Friendship Is Magic in summer 2015 named Wonderbolts: The Series. After Spitfire became the host the series was postponed. Bomb Bird was charged after he made fun of Brysen Brodie for being sick in one of the skits on his show. During the incident and the decision of the new host Bomb Bird was not allowed to appear on Tonight's The Bomb. Hasbro also announced a spinoff series for the runner up which would air in 2016. The runner up was Rainbow Dash receiving 1,990,393,988 votes. The logo was designed by Hasbro at their headquarters in Pawtucket, Rhode Island and the intro was designed by Marcus McGlonsky. Bomb Bird only appeared in 10 episodes which is half of the first season. One episode was done and hosted by Marcus McGlonsky and the remaining 9 episodes of Season 1 will be hosted by Season 1. Spitfire will also takeover Season 2 and upcoming Seasons. The show was also renamed Tonight With Spitfire. Jay Falcon from Potions 101 auditioned to be the hosted but didn't make the cut. Hasbro said if he did the show would have been renamed Tonight With Jay Falcon. Shortly after Bomb Bird was kicked off he was arrested and fined after he made a stranger pay off his parking ticket. He was only arrested for 1 year and charged seven million dollars he was given another chance to come back and apologize to Brysen Brodie live on national TV but the seven million dollars lead to the shows bankruptcy until Hasbro bought the show. The show aired on Chris Network until when Hasbro bought the show it currently airs on Discovery Channel (Chris) and Discovery Family. It was formerly produced by Marcus Media Group and now is produced by Hasbro Studios. The episode with the offensive skit making fun of Brysen Brodie for being sick was taken of the air for good, but the episode can be watched online on various websites. In the old theme song the show name was mentioned various times and was preformed by Bomb Bird after the incident the theme song was changed. Later, in 2017, Hanazuki was featured in the show. In 2019, the show was cancelled, being replaced by the Adult Swim block.
Community content is available under
CC-BY-SA
unless otherwise noted.