NOTE: UNLESS YOU HAVE PERMISSION, ONLY TJDRUM2000 MAY EDIT THIS PAGE. ALSO, THIS PAGE IS UNDER RECONSTRUCTION FROM THE NOW-CLOSED ADAM'S CLG WIKI: DREAM LOGOS WIKI. PLEASE EXCUSE ITS INFORMAL APPEARANCE UNTIL IT IS FINISHED.
Background: TjsWorld2011 Pictures is an American animation studio and the production company of the animator TjsWorld2011. It was founded in 1994 as TjsWorld2011 Entertainment and renamed its current name in 2006. It has also been a subsidary of Viacom since 1996. The studio specializes in primarily animated films and television series. However, it successfully entered the live-action market with Angry Pacmans, released on February 10, 2012.
TjsWorld2011 Entertainment
1st Logo (November 1, 1994-September 15, 2001)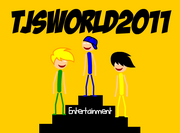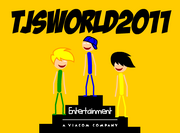 Nicknames: "TW2011 Pedestal", "The PuffRuff School logo", "The Columbia Pictures Television ripoff"
Logo: On a yellow background, we see a black pedestal with stick figure versions of TjsWorld2011, Ntpockets and Readytoanimate. Above them is the black text "TJSWORLD2011" in the Badaboom font, and on the pedestal is the white text "Entertainment" in the I Hate Comic Sans font.
FX/SFX: The animation of the stick figures.
Music/Sounds: The 1988 Columbia Pictures Television theme.
Variants: 
1994-1996: Bylineless.
1996-2001: The Viacom byline in its 1990 font was added below "Entertainment".
Availability: Common. Seen on the Fox television series PuffRuff School, the Comedy Central series The Craig and Butters Show and the first three seasons of the Nickelodeon series Tj's World.
Scare Factor: Minimal.
2nd Logo (November 4, 1994-March 18, 2005)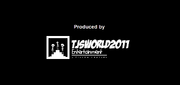 Nicknames: "The Print Logo", "The White Logo"
Logo: At the end of the film, we see the company's print logo in white with the words "Produced by", also in white above it.
FX/SFX: The fade in and fade out of the logo.
Music/Sounds: None.
Variants: As with the 1994 logo, the logo did not add the 1994 byline until 1998, two years after the company was acquired by Viacom.
November 4, 1994: The logo is bylineless.
July 21, 1998-March 18, 2005: The Viacom byline is added.
4th Logo (May 18, 2002-July 9, 2005)
Community content is available under
CC-BY-SA
unless otherwise noted.