Ultra Horror
Ultra Horror is Ultra Limited's horror-related television channel.
2009–2012
2012–2013
2013–2014
2014–2019
2019–December 2019
Thrill
2020-present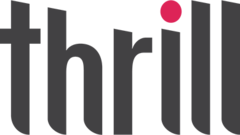 on January 1, 2020, Celestial Tiger signed deal with Quest to launch Thrill worldwide starting with USA (as separated channel) and Australia (replacing Ultra Horror).
Community content is available under
CC-BY-SA
unless otherwise noted.