The page needs to have an equivalent in the Dream Fiction Wiki.
Please contribute to the DFW by creating a page for this channel, company, etc.
Thorn Emi Media Group
2005–2017

Thorn EMI Media Group sold all of it's assets (not co-owned with A Holdings) to Crystal Holdings in August 2016. In February 2017, Thorn Emi Media Group was merged into it's only remaining division Thorn Emi Studios, both located in the UK.
Thorn Group
2014-2017
Thorn Group was revived by Thorn Emi Media Group to maintain non-media operations, with offices in Germany, Sweden, UK, Australia and USA. They merged and split into Windmill plc and the new Thorn Group, both owned by Village Lava until February 2017, when GBC Holdings bought out the Thorn Group company and Thorn Emi Media Group.
The only remaining subsidiary, the revived Remco Toys, was sold to SLN! Media Group.
Thorn EMI Screen Entertainment
1999–2001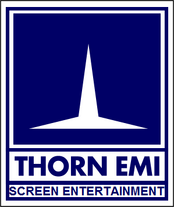 Thorn Emi Studios
2001–2006
2006–2019
Thorn Entertainment
2019-present

On January 30, 2019, Thorn Emi Studios was rebranded to Thorn Entertainment.