The page needs to have an equivalent in the Dream Fiction Wiki.
Please contribute to the DFW by creating a page for this channel, company, etc.
The Six Network is an over-the-air television network that serves Australia. Most of its affiliates with the exception of some stations in Rural Australia broadcasts on channel 6. The Six Network airs a variety of programming such as movies, cartoons, news, game shows, comedy, and syndicated programming. The Six Network is owned and operated by CPN Media Group (formerly GBC Holdings, and until 2019, Laserium Networks). The Six Network directly competes with the Nine Network, Network Ten, ABC (Australia), SBS, and the Seven Network.
1970-1974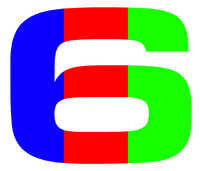 In 1970, Six Network was launched, and it was the second Australian television network to broadcast in color.
1974-1985

1985-1997

1997-present