TheSponge231 Productions was the company behind SpongeBob in Minecraft.
2011-2017
2011-2016
2016
This version of the logo was short-lived.
2016-2017
On June 21, 2016, TheSponge231 Productions updated their logo. The Pac-Man was filled in, and the glow was removed, as well as some minor changes.
2017-2021 (corporate) 2021-present (vanity)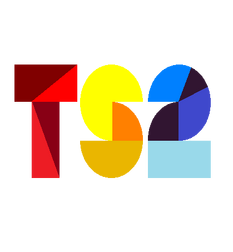 In September 2016, TheSponge231 Productions stated that they might use a new logo, starting in 2017. The logo has Pac-Man hidden in the S. The logo is abbreviated to TheSponge231, but there is also a design with the full name. This logo became active on February 1, 2017. In 2019, the company split from Viacom, becoming a limited liability company. (LLC)
TheSponge231 Productions dissolved in 2021, and although the name currently lives on as a vanity card for TheSponge231's projects, the production facility itself no longer exists. The decision to close the company came from massive losses following post-SBinMC projects, as well as complications arising as a result of the COVID-19 pandemic.
See also