1996-2004
in 1996, KBS, SBS and MBC collabored to launch the only Korean-language television station in Taugaran, TZRI-TV 47 (which KBS, SBS and MBC collaboratively acquired) (used by Rai until 1995), under branding of TKTV.
2004-2012
2012-present
2012-2018

in 2012, CJ E&M and JTBC joined the collaboration about TZRI-TV.
2018-present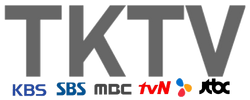 the owners (KBS (without symbol), SBS (without symbol), MBC, tvN, CJ EnM (but only the symbol) and JTBC)' logos was added at buttom of TKTV logo.