South TV2
1991-1997
Launched on January 1, 1991, but didn't appear terrestrially until September 2 that year.
1997-2018
Used from September 8, 1997 until early hours of January 1, 2018.
From September 10, 2001 up until November 30, 2017, idents have involved a 3D anthropomorphic 2 as seen in the logo, jumping, moving and playing around corridors of a house. On June 12, 2017, the channel introduced new idents which blended the playing and moving of the 2 with dropping of paint splats. Most of these idents end with a red paint splat forming on the camera, after which the South TV2 logo appears.
2018-2020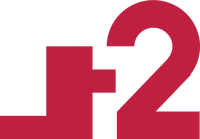 On November 26, 2017, South TV2 revealed the perhaps biggest logo change in its history, set to debut on January 1, 2018 just after the end of the New Year's Eve special, which would last until 4:30am.
Idents connected to this logo were introduced on December 1, 2017, but from December 1 to 31, 2017, they will incorporate motives of the retiring 1997 logo.
Ente
2020-present
A company-wide rebrand of South channels, including the premiere of a completely new bird symbol, was presented on November 4 and scheduled for March 2, 2020. It is plausible that the current naming of channels will be retired and South TV2 would be renamed to Ente, itself focused entirely on entertainment, as was the case prior to rebrand, and it's possible that the content of news will be reduced to a bare minimum, most likely to a daily 15-minute bulletin at 6pm.
Community content is available under
CC-BY-SA
unless otherwise noted.