Rede Brazillian
1990-1995
in 1990, SBT, Rede Globo, Rede Record, Rede Band and Rede Manchete are competing each other in contest to win contract to launch Television station in Taugaran, TZQQ-TV 65, later SBT won the contest, launching Rede Brazillian.
Its startup/closedown ident is same as SBT but SBT logo is replaced with Rede Brazillian logo.
This logo used same design as SBT/TVS logo from 1988 but the text is "Rede Brazillian" in Abstract font.
1995-1999
1999-2009
SBT Taugaran
2009-2012
during 2009-2018, SBT's logo is tinted blue-yellow to reflect flag of Taugaran.
2012-2014
2014-2019
2019-present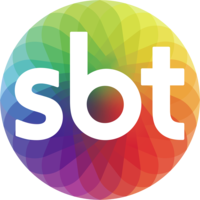 in 2019, to reflect main SBT affiliates, SBT Taugaran dropped "Taugaran" text and removed blue-yellow tint.