Roadshow Animation is an animation production company and joint venture between Roadshow Films, Village Roadshow Pictures and formerly Animal Logic. Animal Logic is the only subsidiary of the animation studio, as of 2015. Roadshow Animation has offices in Los Angeles, Melbourne and Hong Kong.
2014-2015 (official), 2015-2018 (secondary logo)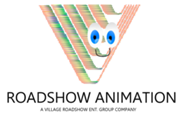 After the sucess of The LEGO Movie, Animal Logic and Roadshow Entertainment announced on Febuary 22th, 2014, that they will create a new animation studio based in Sydney, Austrailia, called Roadshow Animation, and then on Febuary 27th, decided to do international production of The LEGO Movie 2. However, there were recent rumors about employees at Warner Animation Group getting integrated to Roadshow Animation (mostly for Lego Movie team).
During it's secondary logo era, the logo was used in trailers, during ending credits of movies, TV spots and
2015-