The page needs to have an equivalent in the Dream Fiction Wiki.
Please contribute to the DFW by creating a page for this channel, company, etc.
1993 (Prelaunch)
In February 1993, Regional Entertainment Group and Television Entertainment Limited merged as they were both needing to start a television channel. The names were both merged together to form the name 'Regtel' until the two companies would eventually turn into one company in May that year, which meant the two names had to be phased out. The company registered the 'Regional Television' name in May 1993, but they decided to rebrand to launch the new channel.
1993-1998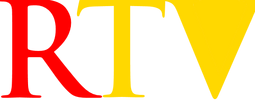 RTV was launched on June 14, 1993. The idents featured a V in a certain area and the screen would flash to the logo on a red and yellow background.
1998-2002

On January 5, 1998, RTV relaunched itself again. The idents remained the same but the red and yellow background was omitted, and the RTV symbol would remain in the area where the V shape is. The idents were designed by Dunn Lopp and Associates and each V came in a different colour.
2002-2006

Audiences for the channel started to drop and ratings started to decline in October 2001. The move to Sky+ also made it a lot harder for the channel to progress. RTV was the second channel to adopt the new RTV look which was on January 7, 2002. It adopted the design that Regional Media Corporation used nearly 2 years before. The idents were designed by Flextech and the idents featured live action areas which would turn a little red. The RTV logo would flash on screen.
2007-2019
In late 2006, RTV announced that they would rebrand their channels to mainly stop giving the sense of motion which was in their older logos. They would simplify it to make it easier to look at. The changes started on January 1, 2007, with every other RTV channel rebranding on that day. The idents featured CGI 'pop-ups' which would be against a darker red background. The RTV logo would flash on screen.
The HD and +1 versions of the channel were discontinued in May 2016.
On January 30, 2019, RTV was merged into Vivo Cinema.