Line 1:
Line 1:
 

'''''RKO National News''''' is the flagship daily evening program of [[RKO News]], the news division of [[RKO Holdings]] and it's broadcast by [[RKO Network]], [[RKO News]] and [[MSNRKO]]. Currently, it's anchored by Piers Morgan on weekdays and Sarah Silverman on weekends and also by Nancy Grace, Mike Huckabee, Alan Colmes and Jane Velez-Mitchell as substitute anchors. Its current theme is ''Epcot Entrance Medley'', in use since 1985.

 

'''''RKO National News''''' is the flagship daily evening program of [[RKO News]], the news division of [[RKO Holdings]] and it's broadcast by [[RKO Network]], [[RKO News]] and [[MSNRKO]]. Currently, it's anchored by Piers Morgan on weekdays and Sarah Silverman on weekends and also by Nancy Grace, Mike Huckabee, Alan Colmes and Jane Velez-Mitchell as substitute anchors. Its current theme is ''Epcot Entrance Medley'', in use since 1985.

−

==RKO News Tonight==

+

==RKO ==

 

===1935-1955===

 

===1935-1955===

 

{{Missing former logo}}

 

{{Missing former logo}}
---
Revision as of 13:00, 19 February 2020
RKO National News is the flagship daily evening program of RKO News, the news division of RKO Holdings and it's broadcast by RKO Network, RKO News and MSNRKO. Currently, it's anchored by Piers Morgan on weekdays and Sarah Silverman on weekends and also by Nancy Grace, Mike Huckabee, Alan Colmes and Jane Velez-Mitchell as substitute anchors. Its current theme is Epcot Entrance Medley, in use since 1985.
RKO Newsreel
1935-1955
1955-1959
1959-1965
RKO News at Night
1965-1975
1975-1981
1981-1985
The main titles were designed by Information International, Inc.
RKO Nightly News
1985-1990
1991
In January 7, 1991, Henry Cooper left the RKO Nightly News presentation and it was replaced by Jim Adams.
1991-1995
1995-1997
RKO National News
1997
On January 5, 1997, RKO Nightly News was renamed to RKO National News.
1997-2005
In 1997, Jim Adams was replaced by John Roberts in the RKO National News presentation because Jim Adams died of a car crash in San Francisco, CA on May 15, 1997. On September 11, 2001, an edition of RKO National News began early at 9:00 a.m. ET and lasted for 69 hours, ending on September 14 at 6:00 a.m. ET.
2005-2009
2009-2012
2012-present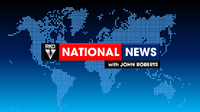 On January 9, 2012, RKO National News launched a new opening, new graphics and a new studio.
2014-present
2020 (upcoming)
Community content is available under
CC-BY-SA
unless otherwise noted.