The page needs to have an equivalent in the Dream Fiction Wiki.
Please contribute to the DFW by creating a page for this channel, company, etc.
The Nostalgia Merchant Channel
2009-2013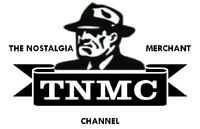 In 2009, Snuff Garrett signed a deal with RKO Holdings to create The Nostalgia Merchant Channel, The logo just like Turner Classic Movies. The logo featured 30 different character designs that could be placed above the TNMC "marquee", each representing a different movie category.
RKO Classic Movies
2013-present

In 2013, Garrett's deal with RKO has been expired. On May 24, 2013, RKO Television Group rebranded The Nostalgia Merchant Channel to RKO Classic Movies (or simply RCM) and changed the target audience to the classic movies in general. The current logo is a rip-off of the current TCM logo.