TV3 Taugaran
1988-2019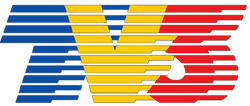 In 1988, TV3 Malaysia launched the first Malay-language television station in Taugaran, TZTE-TV 45.
Prima Taugaran
2019-present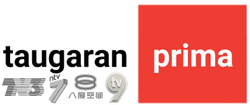 in 2019, TV3 Taugaran was renamed as Prima Taugaran, named after "Media Prima", parent company of TV3 Malaysia, the rebrand was part of the channel began to air programs from NTV7, 8TV and TV9.
This logo is same as Media Prima logo, except "Media" red block is right (instead of left) while "Media" is replaced with "Taugaran" and also added gray logos of TV3, NTV7 (remained unchanged even in 2021 even after beginning to air DidikTV KPM), 8TV and TV9.