The page needs to have an equivalent in the Dream Fiction Wiki.
Please contribute to the DFW by creating a page for this channel, company, etc.
Potions 101 is a Canadian sitcom which premiered on August 2, 2014. It currently airs on Chris Network and has ran from August 2, 2014 – Present.
August 2, 1994-January 6, 2008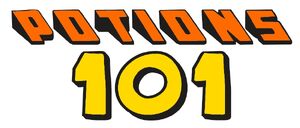 January 6, 2008-present

In December 2014, it was announced that Potions 101 would be changing the logo for Season 2 of their series. Season 2 premiered on January 6, 2015. On August 20, 2014 Potions 101 was renewed for a Second and Third season. Season 3 will likely premiere in the summer of 2015 it is predicted to premiere on August 2, 2015 1 year after the shows release.