CT34
1987-1998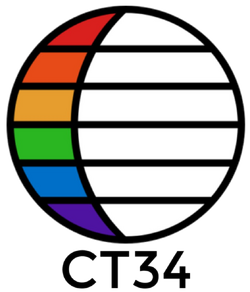 In May 1, 1987 at 9am, CT34 was launched, serving as Taugaranese affiliate of GSTV, its first show to broadcast on CT34 was Tagalog dub of "Kidd Video".
"CT" is meaning of Center of Taugaran, which is headquarters of this channel.
This logo is similar to Central Midlands "Central Cake" logo.
1996-1999 (on-screen bug)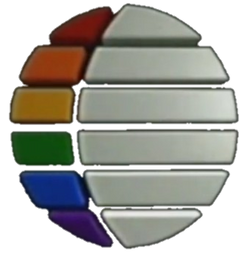 CT34's onscreen bug is just Central Cake 3D variant (without either "CENTRAL" or "CT34" text), despite logo change in 1998, onscreen bug retains Central Cake until the star added in 1999.
1998-2007
1998-1999

This logo is similar to Carlton logo (also Central Midlands logo during 1998-1999), due to branding agreement with Carlton (now merged to ITV plc) (earlier, GSTV signed branding agreement with Central Midlands to use Central Cake logo in 1987 logo).
1999-2007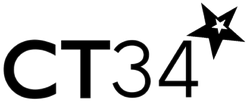 in 1999, Carlton star was added to CT34 logo.
2003-2007 (on-screen bug)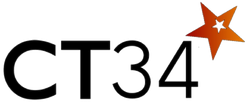 this logo is same as 1999 logo except the star is colour version.
2007-2009
| | |
| --- | --- |
| | LOGO MISSING |
CT34 now uses same logos from GSTV as branding agreement with ITV plc (known as "The Central Cake agreement") expires.
PCLNE
2009-2012
| | |
| --- | --- |
| | LOGO MISSING |
2012-2021
2012-2015
| | |
| --- | --- |
| | LOGO MISSING |
2015-2021
| | |
| --- | --- |
| | LOGO MISSING |
2021-present