DNT
2002-2006, March 25-31, 2021
in 2002, Hoganon Fishing Company of Taugaran, Canwest Global of Canada, Hearst of USA and Channel 4 of UK togetherly launched DNT 77, the second digital-only television station in Taugaran.
during DNT's lifespan, DNT uses same logos and idents as Global Canada (except the color is yellow, not red) as one of owners (Canwest Global, later Shaw Media, now merged to Corus Entertainment) chosen that.
in March 25, 2021, to prepare for closedown, DNT brought back 2002 idents and logo, thus abandoning 2006 logo for last time (even the Screen bug), last appearance of 2006 logo was March 25, 2021 ident (which was current ident but after a second, interrupted by 2002 ident).
2006-March 24, 2021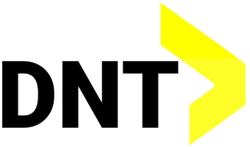 in 2007, DNT was popular for exclusively airing South Park (until 2013, when began to air on TDTN (now dropped on March 1, 2021), EBS2 Taugaran (now Star Viceland Taugaran and moved to Star EBS Taugaran) and DMP 1 (since 2020)), Futurama (until 2019, when began to air on TBS and EXPO (since April 2021)) and several of 70s Sitcoms.
in March 2021, 4 original owners (HFC, Corus, Hearst and Channel 4) sold DNT to ViacomCBS due to bankruptcy of HFC, forcing DNT to shutdown on April 1 to replace with Nickelodeon Taugaran, however several of 70s Sitcoms were aired on DNT to move to EXPO and all programs from DNT Kids block to move to EXPO and rename that kids block to EXPO Kids.
Kiss DNT Goodbye (concert-like special that features 30 Taugaranese, Filipino and El Kadsreian musicians and actors) was last program to air on DNT, it will broadcast on March 31, 2021 at 6pm-12am (with special screening of DNT's first program to air which was "The Love Boat" Season 2 Episode 7 (with special performances of 1970s goodbyes songs between episode segment (instead of commercial break)) at 11:15pm, making "The Love Boat" to be true first and true last program to air on DNT) and special 15-minute final goodbye video will likely to air after special screening of The Love Boat.
Its last image was "Thank You!" message with DNT 2002 logo (entirely in white) against black background and then fades for 30 seconds and finally cutted to "Nickelodeon starts at 6am" testcard (with same music as Global Canada/DNT Taugaran testcard/off-air loop).
Nickelodeon
April 1, 2021-present
On April 1, 2021, the Taugaranese feed of Nickelodeon was launched on DNT slot, it is unclear it is simulcast of Nickelodeon Asia feed or separated feed with exclusive shows, however on March 8, 2021, ViacomCBS confirmed that Taugaranese version of Nickelodeon will be separated feed with exclusive shows and its main language will be Taugaranese while secondary will be English and Filipino (with several languages (languages confirmed so far are Latin Spanish, European Spanish, British English, Swedish, Danish, Finnish, Norweigian, Dutch, French, German, Japanese, Korean, Chinese, Cantonese, Maltese and Italian) for foreigners' pleasure, via Channel 123, rather than regular Channel 77, which only shows programs in Taugaranese, English and Filipino).
The first show to air on Nickelodeon Taugaran was "Ollie's Pack", according to EPG, saying that program will start at 6am.
its screen bug was same as Nickelodeon Asia 2020 screen bug (the logo is small, in top-right corner, the name will say "Nickelodeon" at beginning and end of each episode and "Nick" at rest of times).
Nickelodeon Taugaran have its night block, branded as "NickNight", airing several of Nickelodeon shows and some programs that broadcasts on MTV Free, airing everyday at 9pm-6am, NickNight screen bug is same as Nickelodeon Taugaran screen bug but without animation that transits "Nickelodeon" to "Nick" and to "Nickelodeon" and also the color is entirely gray (unlike Nickelodeon Taugaran, which is orange) (much like Germany (then MTV+, now Comedy Central+1), Austria and Switzerland).