The page needs to have an equivalent in the Dream Fiction Wiki.
Please contribute to the DFW by creating a page for this channel, company, etc.
Music Box
1994-2003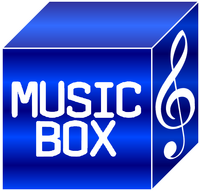 Music Box was launched in 1994 as a joint-venture between Radiotelevisão Portuguesa and Viacom.
VH1 Portugal
2003-2013
In 2003, Viacom bought RTP's 50% stake on Music Box and renamed the channel to VH1. The channel adopted the 2003 VH1 US logo.
2013-2016
In January 2013, with the VH1 US rebrand, VH1 Portugal also was rebranded.
M&E (Portugal)
2016-2019
This channel was a joint venture between Suius M&E International Networks Europe, Radiotelevisão Portuguesa and Grupo IVT de Comunicação. On January 30, 2019, SM&E bought out stakes owned by IVT and RTP, and merged the channel into Screen.