Here you write your dream logo variations for Walt Disney Pictures to be real.
Finnbinn
Finley's World: The Movie (2007): The logo is sped up very fast and then fades into planet Earth. This was only seen on the second teaser trailer of the film.
A  Dog Life of The City (2016): The Disney castle turns into a city.
At the first trailer, the logo is tinted red.
At the second trailer, the logo is tlited.
At the teaser trailer, the 1985 Walt Disney Pictures logo is used.
At the TV spots, the word of "Disney" replace at the word "Mike".
From All of Us to All of You (2016): The 1986 "Disney" on ITV logo is used and 1978 Walt Disney Home Entertainment theme is heard.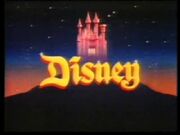 After the credits, short version of 2011 Disney logo is used at the end.