The page needs to have an equivalent in the Dream Fiction Wiki.
Please contribute to the DFW by creating a page for this channel, company, etc.
QSD TV
QSD TV was a television network owned by Lava Lamp Entertainment and RKO Holdings through WFXM Partnership, and broadcasting through affiliated stations nationwide via satellite from Lava Lamp Entertainment's headquarters. QSD TV is geared primarily toward young male adult viewers and focuses on the world of video games, broadcasting video game-related programming.
2006-2018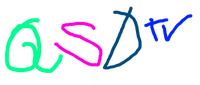 The network soon was merged into Hyper and became its American feed.
Hyper
Hyper was an e-sports channel launched by Suius M&E International Networks Europe in June 2016 in France, Germany and Italy.
2016 (pre-launch)
2016-2020

Lava eSports
2020

Hyper was rebranded as Lava eSports as they were acquired by Qualis's subsidiary Lava Sports Networks. The channel will relaunch in January 2020.
2020-present