for the Ultra Limited's News channel, see Ultra News (TV channel).
Ultra News is the flagship news programme of Ultra TV.
Ultra Nightly News
October-December 1997

Ultra News was launched in 1997 as Ultra Nightly News.
Ultra News (first era)
1997-1998

Sometime later, it was renamed Ultra News. Also, by December 1997, Ultra launched a news channel with the same name.
1998-1999

The Ultra News Trapezoid's first incarnation.
1999-2001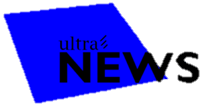 The Trapezoid's second (and final) incarnation.
2001-2002

2002-2004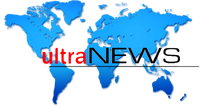 2004-2009

uNews
2009-2013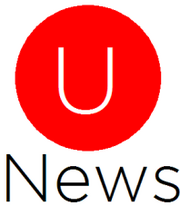 Ultra News became uNews in April 2009.
Ultra News (second era)
2013-present

uNews reverted back to Ultra News in September 2013, as part of the massive overhaul. However, "uNews" is still used as secondary name. 
Ultra News in Multilingual
Jornal da Ultra (Brazil, Portugal and some parts of Africa)
Ultra Balita (Philippines)
Telegiornale Ultra (Italy)
Noticias Ultra (Spain, Argentina, and most parts of Latin America)
Ultra Nyheter (Norway)
Ultra Aktuellt (Sweden)
Ultra Berita (Indonesia, Malaysia)
Ultra Nyheder (Denmark)
優視新聞 (China, Taiwan, Hong Kong)(Formerly called Channel Z News in Greater China and Taiwan)
Ultra Novinky (Czech)
Ultra-Aktuelles (Germany)
Nuacht Ultra (Ireland)
울트라 뉴스 (Korea)
ウルトラニュース (Japan)
Dziennik Ultra (Poland)
Ultra News India (India, English, launched 2001)
अल्ट्रा समाचार (Altrā samācāra) (India, Hindi, launched 1998)
ультра Вести (Russia)
Spravy Ultra (Slovakia)
חדשות של אולטרה (Israel)