Contents

1958-1967
1967-1974
1974-present
Latikuu (also known as Latikuu Entertainment) is an El Kadsreian toy maker, amusement and video game company headquartered in El Kadsre City, El Kadsre. It is known for popular franchises such as X-Land, Sento Hero, Duggman, PokaPoka!, Galo Force, Twin Tamers, etc. It was founded in 1958 by Ray Kazumi and Jun Rodgers.
1958-1967


The company was founded as toy maker and amusement company.
1967-1974

1974-present

When the company started making video games, Latikuu gets a new logo. The logo was first seen on early Latikuu arcade and computer titles.
V •

T

• E
Latikuu Edacra

Latikuu | L•K Toys | Caldatite | EducationFun! | Starfalls
Latikuu hardware:
Lativision | Lativision II | Latikuu Hi-Tech Bugo | Latikuu Imagineer | Latikuu Keydisc
---


Edacra | Studio E3 | Team 95 | Edacra Studio Mahri | Edacra Studio Monterrey | Edacra Studio Boston | Edacra Studio Italy | Edacra Studio San Francisco | Edacra Studio India
---


EKToy | EKToy Games | Bingo Board Games | Adventura Media
---


Egusa Inc. | Czechowicz | Radiophonics | EKSC
---
Other Assets:
Kuriko Toys | Rainbow Treats | Bakula Mills | Kilinshin Entertainment | Nelson Inc. | Clique Toys
---
Defunct:
Latikuu Holdings, LLC | Edacra Entertainment | Kilinshin Television
---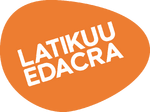 {{{footer}}}