Kivatoons
1999-2011

Kivatoons Network was officially launched on March 21, 1999. Similar to 1984 Nickelodeon logo, It utilizing a new theme with their multitude of logos: Aqua blue silhouettes with the word "Kivatoons" (written in the Balloon Extra Bold font) on them.
Kivatoons Network
2011-present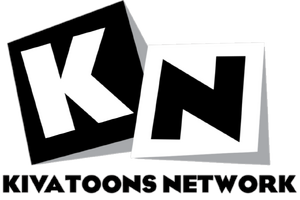 A new logo and on-air look for the network were unveiled in October 2010 and began use in the United States on January 28, 2011. The logo is quite identical to the 2004-2010 Cartoon Network logo expect the "CN" letters were replaced by the "KN" letters. Bumpers are similar to 2010 Cartoon Network graphic.

In January 2014, the network introduced new graphics that based on Nickelodeon Germany's graphics from 2013 and Cartoon Network's graphics from 2013. Many original bumpers are still used on network.
In late 2018, the network has temporarily rebranded into similar graphics to Cartoon Network US in late 2009 to early 2010.
In January 2019, KN introduced new graphics that based on Cartoon Network Asia/Australia from 2009. However, 2011 and 2014 soundtracks and bumpers are still used on network.
Community content is available under
CC-BY-SA
unless otherwise noted.