KCBA-TV is a commercial-free television station located in Los Angeles, California and serves the LA/Orange County area having signed on the air July 2nd, 1961 as a independent station. It is affiliated with CBeebies since 2002 and broadcasts on channel 10. It is owned by Electronic Arts since 1982, the station was previously owned by Combined Communications Corporation until 1979, Gannett until New Year's Day 1980, and Taito until 1982.
1961-1974

1974-1982
1982-1990
Starting in 1987, KCBA-TV begins mirroring Discovery Channel's 1987-1992 graphics and music which would last until 1993.
1990-2012
Starting in 1993, KCBA-TV begins mirroring the Discovery Channel's 1992-1995 graphics and music which would last until the 2012 rebrand.
1990-2000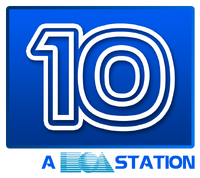 2000-2002
2002-2012
2012-present
In late-2012, KCBA-TV has launched a new on-air look with a new logo, new graphics by TVbD, and a new music package by Edd Kalehoff which is the new remixed update of the station's 1993 music package.