KAAM is the CW affiliate that serves the Riverview, WA area. It broadcasts on channel 4.
1949-1955
| | |
| --- | --- |
| | LOGO MISSING |
KAAM originally signed on the air on May 8, 1949 as the primary CBS affiliate. Although it was owned-and-operated by the locally-based Dispatch Publishing Company for most of its life, the network had fought for the construction permit but later lost to Dispatch.
1955-1961

1961-1965
| | |
| --- | --- |
| | LOGO MISSING |
1965-1973
1973-1988
1973-1985

On November 4, 1973, KAAM introduced the original version of its current "4" logo, based on the design of the Loewn Pass Truss Bridge. Station IDs used by the station during the 1970s and 1980s usually depicted the logo hidden in positive space within a full-scale design of the bridge. It was briefly revived in late 2019-early 2020 to commemorate its 70th anniversary, only used on its promos for its documentaries. The design continues to be used on its DT2 logo (affiliated with Antenna TV).
1984-1988

Same as the logo above, but italicized. Debuting in newscasts (then branded as NewsCenter 4) around 1984, and in general the following year, this logo continued to be used on the station's newscasts until December 1988, not too long after the next logo below was introduced.
1987-present
1987-1991, 2013-present

A simplified version of the previous logo. However, the previous logo continued to be used on the station's newscasts until 1988. This logo (without the red circle shown below) was revived in June 2013, months after the debut of the previous graphics package (though used exclusively on certain bumpers) prior to Young Broadcasting's acquisition by Media General 5 months later. It started to become widespread with the debut of its current graphics package in 2016, and has been seen only on news bumpers and in the newsroom since October 2020.
December 1988-1991

1991-present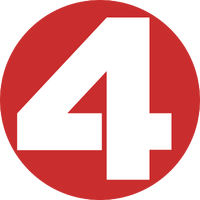 The 1987 "4" logo has been displayed inside a red circle since 1991.
1991-1995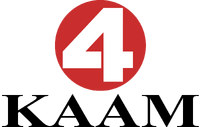 1995-2001
2001-present
This logo was introduced shortly before its CBS affiliation expired that same year. On January 1, 2002, KAAM ended its affiliation with CBS after 52 years, the result of a 2000 dispute between the network and Young Broadcasting (which bought the station for $823 million in November 1999, outbidding CBS) during negotiations to renew the affiliation contract set to expire on December 31, 2001, over reverse compensation and management demands inputted by CBS as stipulations for keeping the affiliation. KAAM became The WB station by default, as both ABC & NBC already had a long-term affiliation deals from other stations and their owners. The CBS affiliation moved to Prescott-based then-WB (and former NBC) affiliate KLKV.