K2 (Formerly called CER2 Y, CER2 Family, CER2 Kidz! and CER2 Wam!) was an American version of K2 and a basic/premium television channel, owned by Old Dominion Media.
CER2 Wam!
2011-2013
CER2 Y
2013-2014
2014-2016
CER2 Kidz!
CER2 Kidz! was a commercial-free digital cable/satellite channel broadcasting from CER Two's studios at the KCER Digital Broadcast Center in Benton, Arkansas and was owned by CER2 Digital Networks (a division of KCER Media, now a division of Laserium Holdings) and offered shows for older kids featuring cartoons and anime along with original live-action programming produced for the channel. It launched in 2013 and merged to K2 in 2016.
2013-2016
CER2 Family
A family-friendly entertainment channel similar to the former Family Channel.
2011-2016
K2 (USA)
2016-2019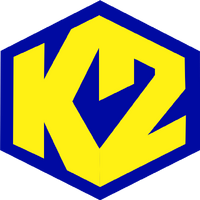 On January 30, 2019, K2 USA shut down operations.
Community content is available under
CC-BY-SA
unless otherwise noted.