To see the real version, see the Jetix article on Logopedia.
2012 (pre-launch)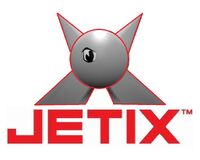 Around 2012, SLN! tried to revive Jetix (following the unused channel Google Spin).
2013-2018 (United States), 2013-2020 (International)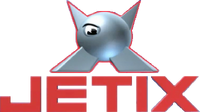 On January 7, 2013, A Holdings helped SLN! for the revival of the channel. The idents were made by Rubber Pixel. In celebration, Jetix announced Jetix and Wetix, which was stuck in development for 3 years before airing.
Also in November 2016, Fetix and Jetix announced a partnership deal where they would air each other's original programming on their channels. It suddenly was halted in 2017 due to Fetix's rebranding to Animedia at the time and "internal conflict". Due to a sudden increase in programming, all international versions of the Jetix channel became 24/7 channels and Nostalgic TV Partners LLC announced to create JeDeux in March 2017. However, the date was delayed until January 2018.
Even the logo was gone in 2018 in the United States, the logo is still being used in international markets.
2018-2020 (United States)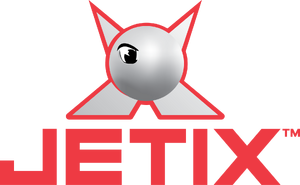 On January 31, 2018, Jetix changed it's logo into it's predecessor's original logo design.
On January 30, 2019, the Toonvision and Worldkids international channels, along with several assets like DisNick XD and QUAD, were merged into Jetix, as part of "Children's Media Assets Consolidation".
On October 30, 2019, Jetix, until then owned by Laserium Networks, was bought out by its sister company CPN Media Group.
2020-present
At 2:00PM on the 25th of October, Jetix launched in Infinitia. To celebrate, the logo was changed to incorporate the new local programs.
2021-present
In May, 1, 2021 Jetix went in 2D to 3D
Programming
Main article:

Jetix (revived)/Programming
See also