The page needs to have an equivalent in the Dream Fiction Wiki.
Please contribute to the DFW by creating a page for this channel, company, etc.
2015-present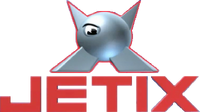 The channel launched on April 2, 2015 as a separate feed dedicated for Taiwan viewers. Programs broadcast on this feed are almost identical to the programs broadcast on Jetix Asia, with the exception of a few shows. It has a translation in some areas. It was broadcast in Mandarin and English.
See also
Jetix (Taiwan)/Programming
Jetix (Taiwan)/Other