Indústrias Visuais de Televisão - Canal 1, normally known as IVT1, is a Portuguese commercial broadcasting television network, created in 1971, owned by Grupo IVT de Comunicação and is part of the Rede IVT de Televisão.
IVT
1971-1991
IVT1
1991-2011
In the Spring of 1991, IVT was rebranded as IVT1.
2011-present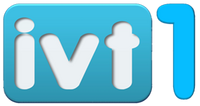 Community content is available under
CC-BY-SA
unless otherwise noted.