The page needs to have an equivalent in the Dream Fiction Wiki.
Please contribute to the DFW by creating a page for this channel, company, etc.
Google Entertainment Television
2000-2007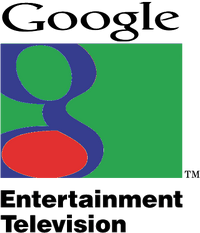 On March 1, 2000, Google launched a TV channel in Asian marketing , the name was Google Entertainment Television. also launched in India on May 15, 2000 for only Indian Drama & Horror TV shows. launched on July 6, 2000 in Australia
2007-2015 (Asia), 2007-2016 (India)
This logo was used in the Australia, and it hasn't changed to Google Channel.
Google Channel
2015-2017
After Google's new logo, Google Entertainment Television renamed by Google Channel on November 1, 2015 in Asia and March 1, 2016 in India. However, Google Enternment television with 1999 google logo still used in Australia
2017-present
On January 20, 2017, the channel rebrand the logo same as 2010 Google TV.