Global America was launched in September of 1994 by 7studios and the original Canwest as a version for the US. It airs the same programming as Canada's Global TV Network.
1994-1997 (as Independent station WGLO-TV)

1997-2006
2006-Present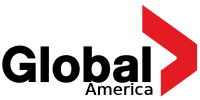 A refreshed logo was introduced on February 5, 2006. When the original Canwest filed for bankruptcy, and Shaw Media had to take ownership, programming had been made simillar to it's Canadian counterpart. The network was handed over to one of 7Studios' subsidiaries, Next 64 Studios, once 7Studios, also, went bankrupt. As of April 2016, the network is currently owned by Next 64 Studios and Corus Entertainment.
Community content is available under
CC-BY-SA
unless otherwise noted.