The page needs to have an equivalent in the Dream Fiction Wiki.
Please contribute to the DFW by creating a page for this channel, company, etc.
ABS-CBN-BBC-CanWest-Shaw Partners
1991-1999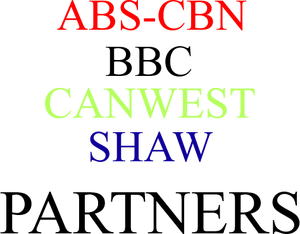 Corus Entertainment
1999-2007
GauLife Entertainment
2007-2016
2016-present
In November 2019, RedStrong Holdings spun off GauLife Entertainment into 36Media which was then in turn bought out by and integrated to CPN Holdings.
in May 5, 2020, ABS-CBN announced that it will pulls it stake of GauLife to ViacomCBS, if franchise is not renewed, not including the channels (like Myx, Metro Channel, and Asianovela Channel) (sans Knowledge Channel, TFC and all of TFC channels (like ANC, DZMM Teleradyo, Lifestyle Channel and Myx TV), all of which sold to ABS-CBN), which are likely to rebrand away from ABS-CBN owned channels, on July 10, 2020, ABS-CBN immediately sold GauLife to ViacomCBS after franchise was denied by congress, according to GauLife's statement, All remaining channels that are owned ABS-CBN (including Myx and Asianovela Channel) will be rebranded by July 11 at 12am, while Metro Channel will not rebrand until CPN Premium launches.