Not to be confused with the channel formerly named as TeleEx.
TWEX-TV (as a simulcast of CNBC International)
2012-2014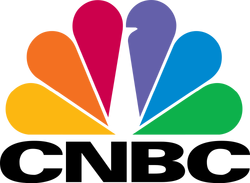 TDTN FusionVision
2014-May 31, 2017
Throwback 98
June-August 31, 2017
EXPO
September 1, 2017-2021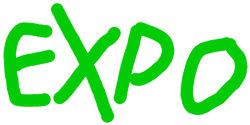 in 2020, EXPO inks partnership with Viva Entertainment to launch the Philippine feed of EXPO, it lasts until March 17, 2021, when Viva terminated partnership with EXPO and on April 1, 2021, the Philippine version of EXPO to be absorbed to the Taugaranese version.
April 1, 2021-present

Block logos
in March 25, 2021, EXPO revealed new info and images of brandings and idents (however videos of these idents aren't uploaded until at least March 31, so images is a teaser) of blocks logo, 2 blocks stays to have same logo, while TV Classic block have Nick at Nite 1985 branding and logo (also uses Nick at Nite 1988 idents) (with upside down triangle variant being main logo variant of EXPO TV Classics block) instead of the old TV-styled logo, while Japan Zone to have same idents as Golden TV Japan from Taiwan and EXPO Kids block to have idents that are same as Minimax 2006.
These 3 blocks will be launch on April 1, 2021 at 7am to 11am (for EXPO Kids), 9pm to 11pm (for Japan Zone) and 11pm to 7am next day (for TV Classics).
scrapped