DCOM TV (2012-2013)
Before it had initiated broadcast in 2013, Disney Spark was originally marketed to cable and satellite companies as "DCOM TV" back in 2012. The name of the channel was later changed to "Disney Spark" in 2013.
2013-2015
Disney Spark was launched on September 1st, 2013 as a commercial-free channel for Disney Channel's extensive library of premiere films (from the 1980s and 1990s) and DCOMs (from the 2000s onward). Its first logo is based on Disney Channel's 2000 logo, with the word "SPARK" added below "Disney", and the word "Channel" on the bottom removed.
2015-present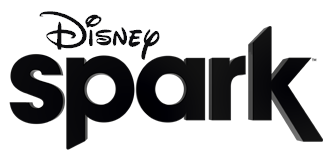 Disney Spark had rebranded on May 1st, 2015 as a 24-hour channel for Disney Channel's animation library, and as the channel's distribution grew, it had became ad-supported for the first time in its history. The channel has also started becoming more modern with this rebrand.