The page needs to have an equivalent in the Dream Fiction Wiki.
Please contribute to the DFW by creating a page for this channel, company, etc.
2003-2011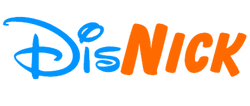 DisNick Asia is a cartoon channel was launched on August 23, 2003 along with BBCNNNBC in Asian countries owned by Viacom International, The Walt Disney Company and joint affliated with Digital Broadcasting Corporation of Eastwood. The two channels shared the same transponder with BBCNNNBC broadcasting during the night with DisNick taking over for the morning and afternoon period. Initially DisNick was on air from 5am until 5pm, although in 2007 DisNick's start time was pushed back to 6am to 7pm. Later, in December 2007, BBCNNNBC and DisNick were split off to become 24/7 services.
2011-2019

After 8 years of using the old logo used since 2003, DisNick Asia finally made a major logo change in January 1, 2011. Around the time this logo was first used, the channel had started introducing more modern shows to its lineup.
In January 30, 2019, DisNick Asia became Screen.