Dream Fiction Wiki has an article for this page.
To view more about the article, click the Dream Fiction Wiki link.
1999-2010, 1999-2012 (Screen bug)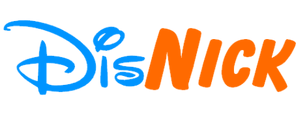 On December 4, 1998, Disney and Viacom announced the launch of "DisNick", a joint venture between Disney Channel and Nickelodeon. The channel was launched on-air in the United States on September 18, 1999 at 7:00am ET. The Logo sill used as on-Screen Bug Until 2012.
2010-present
After 11 years of using the old logo used since 1999, DisNick finally made a major logo change in November 2010. Around the time this logo was first used, the channel had started introducing more modern shows to its lineup. Around 2014, DisNick was acquired by the revived Gulf+Western Industries, which in turn was acquired by Old Dominion Media in 2018.