The page needs to have an equivalent in the Dream Fiction Wiki.
Please contribute to the DFW by creating a page for this channel, company, etc.
Channel Z (Hangul: 채널Z) also replacing Optica Television in South Korea.
Channel Z South Korea
2008-2013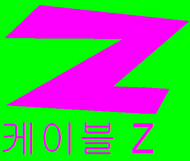 Similar as Japanese logo, but with different colour scheme and hangul.
2013-present