The page needs to have an equivalent in the Dream Fiction Wiki.
Please contribute to the DFW by creating a page for this channel, company, etc.
BKN AG was a German-American kids TV production and distribution company, owned by Old Dominion Media. 
BKN AG
2016-2019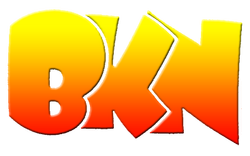 BKN is a syndicated multi-block package and a German channel, revived in June 2016.
BKN consisted of 18 programming hours a week and three blocks. The two weekdays block are BKNX, aimed at a teenage audience, and BKN Comedy. While the third block, BKN Super, focusing on adventure, fantasy, sci-fi and action animated series, aired on weekends 8-9 AM.
In January 30, 2019, the Zeebo channel and the BKN Super, BKNX & BKN Comedy blocks were merged into Jetix International. That same day, BKN AG and Zeebo Entertainment LLC were merged into Old Dominion Media, the syndication package was merged into Jetix Max and the German channel was closed down.
BKN group of companies
BKN AG group of companies included:
BKN AG, the parent company.
Channels division

BKN, the German kids channel.
Zeebo Entertainment LLC, co-owner of the Jetix brand.