TDTN2
2013-2017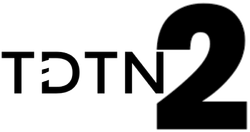 2017-2021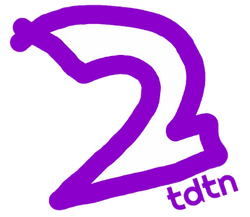 in 2020, original owners of TDTN sold 5 channels to U46 and KC Media Group respectively, effectively to close TDTN2 on March 1, 2021 to replace with simulcast of Animax Asia, however Animax Asia leave HTN while HTN replaces original Animax channel with Da Vinci Kids/Da Vinci Learning channel.
its last program to air on TDTN2 was 11pm replay of Pinoy Big Brother Connect, before final sign-off and blank screen (with occasionally Ookun (Animax mascot)'s appearances (still in blank screen) (like walking from left to right) appears at about 15 minutes to promote Animax Taugaran, also at 5:55am, Ookun' s animation with holding the remote, when it pushed the button, Animax on-screen bug appears (also screen bug animation plays) and also the text and countdown "CRAYON SHIN-CHAN 4:13" appears) for 6 hours
Its final sign-off sequence is TDTN2 montage for 2 minutes followed by final message below
Its final message was just "Goodbye" in Blue-Yellow color Scripted text against black background and without TDTN2 logo.
TDTN2 final sign-off and Animax Taugaran's Blank Screen stunt was trending (even at TV channels community and General International TV at Anime Superhero) as a uploader "Taugaran TV Archives" uploaded full 11:55pm-6:01am broadcast of TDTN2/Animax Taugaran to YouTube.
Animax
2021-present

Animax Taugaran's schedule is mostly simulcast from main Animax Asia channel but with children Japanese programmings (mostly live-action programs with mascots) (subbed in English) mainly airs from 6am-10am and also News (named as "News at Noon") that only airs on 2pm-3pm and will not air on primetime due to anime simulcast on main Animax Asia channel, and even Animax Taugaran.
Its first video to air on Animax Taugaran was Animax full ident followed by its first show on Animax Taugaran was Crayon Shin-chan, which airs at 6am, however its first show of Animax Asia simulcast was Real Girl.
Animax is third pay-TV channel to have free television station in Taugaran (which is unusual in rest of the world), after KidsCo (now defunct) and TechStorm.
on May 1, 2021, 10am-2pm and 3pm-5pm schedule have changed, drifting away from Animax Asia schedule, at same day, Animax Taugaran began to air more animes (including Naruto, Ranma 1/2, Danganronpa, Assasination Classroom and One Punch Man) on 10am-2pm and 3pm-5pm slots, however 6am-10am children lineup, 2pm-3pm news slot and 5pm-6am Animax Asia simulcast lineup remained unchanged.