ARTV (Arkansas Television) is a commercial-free regional cable/satellite channel, and is owned by KCER Media, it launched on February 1st, 2016 as an ad-free unbranded feed of CER2 (formerly Prime TV, now Ene). Unlike the formerly-owned commercial Ene channel, and like the commercial-free CER Two channel, it is a 24-hour regional entertainment channel and offers a general entertainment programming format with a variety of news, talk, sports, movies, cartoons, sitcoms, westerns, comedies, dramas, documentaries, action shows, and specials.
CER2
February 2016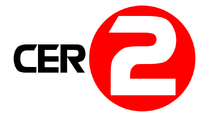 In January 20, 2016, CJ E&M and iHeartMedia announced that it had to sell commercial channel Prime TV back to KCER Media in order to retaining the "CER2" name, logo and idents as of February 1, 2016 until a new name will be revealed and planned to move the commercial "CER2" channel to a new regional commercial digital subchannel outside the Benton, Arkansas area.
ARTV
February 29th, 2016 - present
On February 29th, 2016, CER2 will move to a new regional commercial cable channel inside Benton, AR while the new regional channel ARTV will launch, and it will offer a new logo, along with a new channel announcer.
For idents and promos for the new channel see ARTV/Other.
V • T • E
Hyper Holdings, LLC
Hyper Entertainment:


Film: Hyper Pictures | Hyper Animation Studios | Hyper Home Entertainment | Hyper-SBS Ventures Korea
Miscellaneous: Hyper Cinemas (Dynamax) | WatchHyper | Hyper.com | Hyper HD | Hyper 4K
Video Games: Hyper Games ( Hyper Games New York | Hyper Games San Francisco | Hyper Games Seoul) | Hyper Games Mobile | Hyper Electronics (PolyGram GameColor | Polygram Speed | SpeedCD | Hyper Dial)
---
Hyper Telecom:
Digital cable: Hyper Telecom Cable
---
Hyper Television Group:
Television production/distribution: Hyper Studios | Hyper Television Distribution | Hyper International Television
Broadcast networks: Hyper Network (HD | 4K | 3D) | The Square (HD) | TTN (HD | 4K) | Telehorizonte (HD | 4K)
Cable and satellite television channels: Hyper News | Hyper Sports | Hyper Kids | Hyper Retro | HyScream | Hyper Education | Sexy Hot | Hyper Comedy | DocuTV | Hyper Sm@sh | RH Channel
International television:
Europe | Latin America | Middle East | Asia | Australia | Africa | Canada
Regional stations:
Telehyper (Norway) | TeleMilano (Italy) | MGS (Malaysia) | Teleunis (Spain) | TTS (Turkey) | Teleporto (Portugal) | De Syv (Dermark) | Der Dritte (Germany) | CSB (Korea) | CMTV (Taiwan) | Indovision (Indonesia) | GSTV (Philippines) | CTS (El Kadsre) | TSM (Mahri) | Sentan TV (Sentan) | Fusion TV (Vicnora) | ZBC (Screencold and Line) | BTN (Taugaran) | Hyper Network Seahaus (Seahaus) | Orizeu TV (Lechutan) | TCN 6 (Hokushi)
Radio: Hyper Radio | Hyper News Radio | Country Best FM | R&R (Classic | Jazz)
---
Hyper Television Stations:
Hyper Network affiliates: KHYP-TV (Twin Falls, IH) | KWC (Oklahoma City, OK) | KUCV (Los Angeles, CA) | KHIV (Yuma, AZ/El Centro, CA) | WSWA (Spokane, WA) | WHNY-TV (Brooklyn, NY) | WHYN-TV (Grand Island, NE) | WRIV-TV (New York City, NY) | WHSJ-TV (San Juan, PR) | WHI | WFDF-TV | WNOR-TV (Astoria, OR) | WHG-TV (Kansas City, KS) | WPBH-TV (Pittsburgh, PA) | WHYP-TV (San Francisco, CA) | WTUNG-TV 1
TTN affiliates: KTTN | KTTD | KTWW | KWTN | KTNX | KKXM | KETN
ABC affiliates: KIH-TV
CBS affiliates: WGFC-TV | WCTC-TV
CW affiliates: WCW-TV | KCW-TV
NBC affiliates: WDCD-TV
MyNetworkTV affiliates: KMYH-TV
The Square affiliates: KAJF-TV/KGBS-TV (Benton) | KPLJ-TV (Little Rock/Benton) | KCXC-TV (Kansas City) | KGXY-TV (North Las Vegas) WQXA-TV (York) | WNJY-TV (Newark) | KFXN-TV (St. Louis) | WANT-TV (Baltimore-Washington metropolitan area) | KDCM-TV (Hanford/Fresno) | WYYZ-TV (Orlando) | WZAX-TV (Nashville) | KDLD-TV (Pine Bluff) | WMXA-TV (Memphis) | WJJX-TV (Jackson)
Independent affiliates: WRTJ-TV (New Britain, CT) | WTAE-TV
---
Hyper Music Group:
Hyper Records | Gorilla Records | Hi Records

---
Defunct Properties:
Net Kids | The Children's Channel | Tamerica Broadcasting | PBS People | TCB
1Station owned by RKO Holdings.


{{{footer}}}